QUALIFYING MODEL
558M1RY
HOW TO CLAIM
To be eligible for this offer, each customer must purchase valid Philips Monitors then submit the online claim form.​
Complete the online claim form below.
Attach a photo/scan/copy of your tax invoice (showing the seller's ABN number).
Attach a photo of the barcode label on the packaging of each monitor, clearly showing the serial number as per the below example: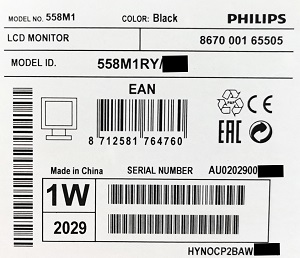 ENTRY FORM
Terms and Conditions
Purchase Valid Philips Monitor Models during the Promotion Period to be eligible for this promotion.​
Valid Models: 558M1RY​
Promotion Period: 24 December 2020 to 7 February 2021
Each Customer may Claim a maximum of 3 x $200 eGift Cards. Each monitor purchase requires a separate Claim. Claims must be submitted by 14 February 2021.​
This promotion is for retail purchases by Australian Residents only.​
Purchases from overseas are ineligible: the Tax Invoice must list the Australian Business Number (ABN) of the Seller & the GST amount.​
Claims will be deemed void if forged, manipulated or tampered with in any way.​
Incomplete or unclear applications will not be accepted.​
eGift Cards may not be substituted, exchanged, sold or redeemed for cash or other goods or services.​
Philips Monitors reserves the right to change these rules without notice.​
CONTACT US
We are here to help! Please email any questions to info@philipsmonitors.com.au
Thank you for choosing Philips Monitors!